Day Service Center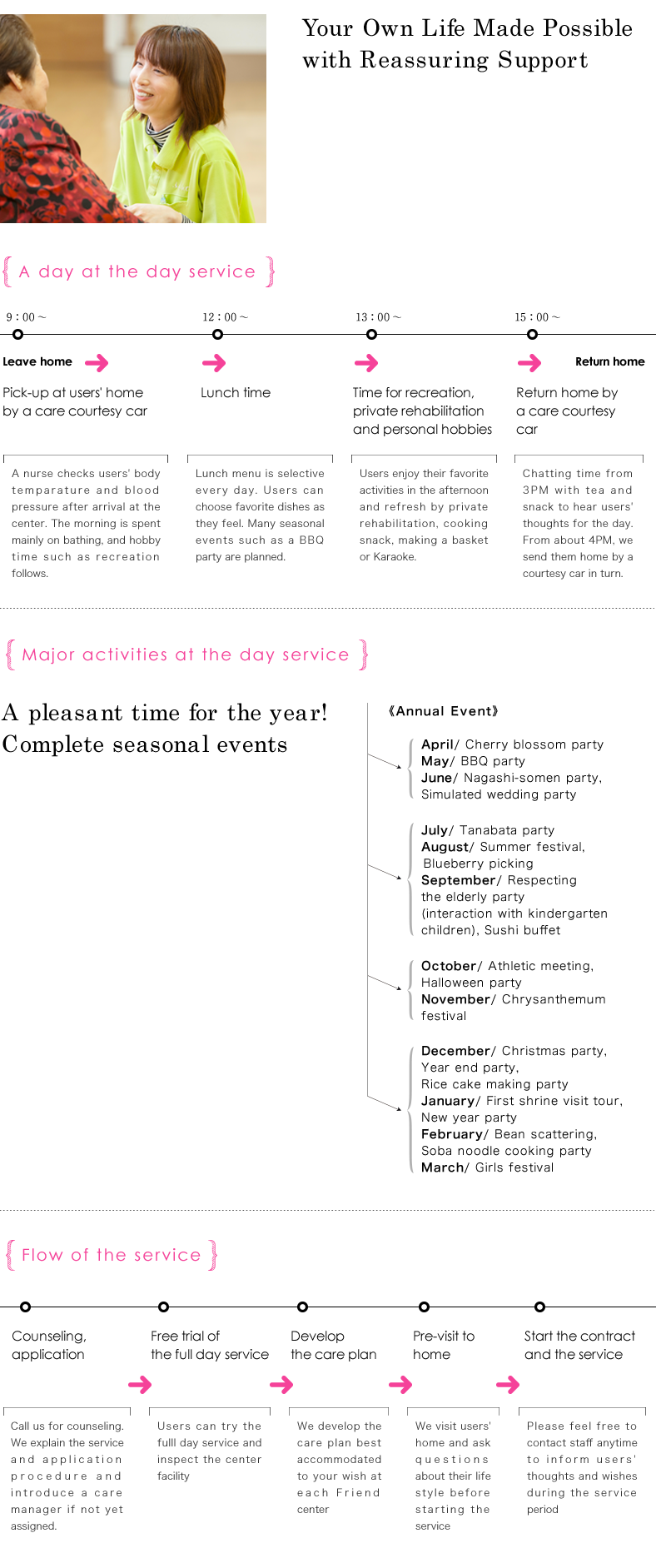 We help users to live every day vigorously. We pick them up by a courtesy car, and conduct a nurse's health check-up, a functional training, bathing and recreation, so that they can spend a fulfilled day. A spacious bath tub, flexible lunch menu and a rehabilitation by a full-time trainer are provided.
We will try to have more various event plans such as Karaoke, a game event, a magic show and a concert to create the place for the elderly to find more purposes in their life and enjoy their times.
※The event list on the right may be different by the
center or the season.
Home Care Support Center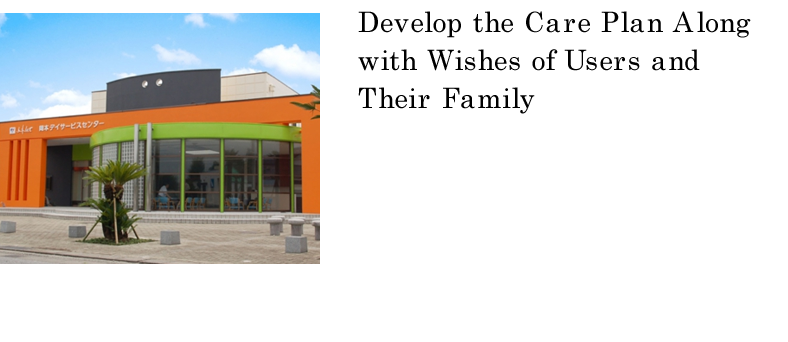 We counsel the nursing care insurance system, take over the care insurance application and develop the care service plan. We also provide the proper care management including the arrangement of the home care service provider and introduction of the home care facility. (Developing the care plan and counseling are free)
Group Home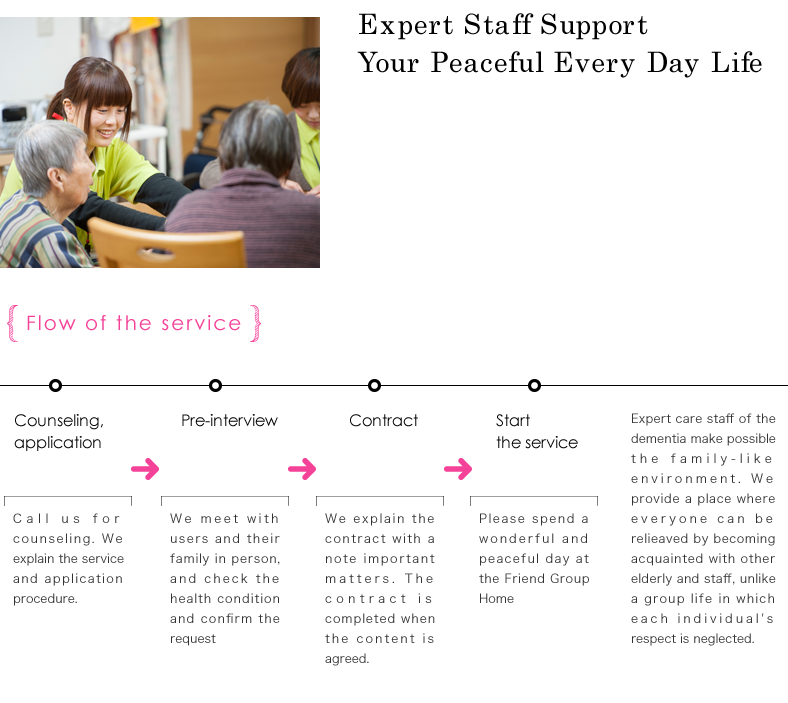 We aim to provide support for the elderly dementia patients for their peaceful life and arrest dementia's progress by supporting their bathing, excretion and meals, helping their daily living activities and conducting a functional training
Small-sized Multi-functioned Facility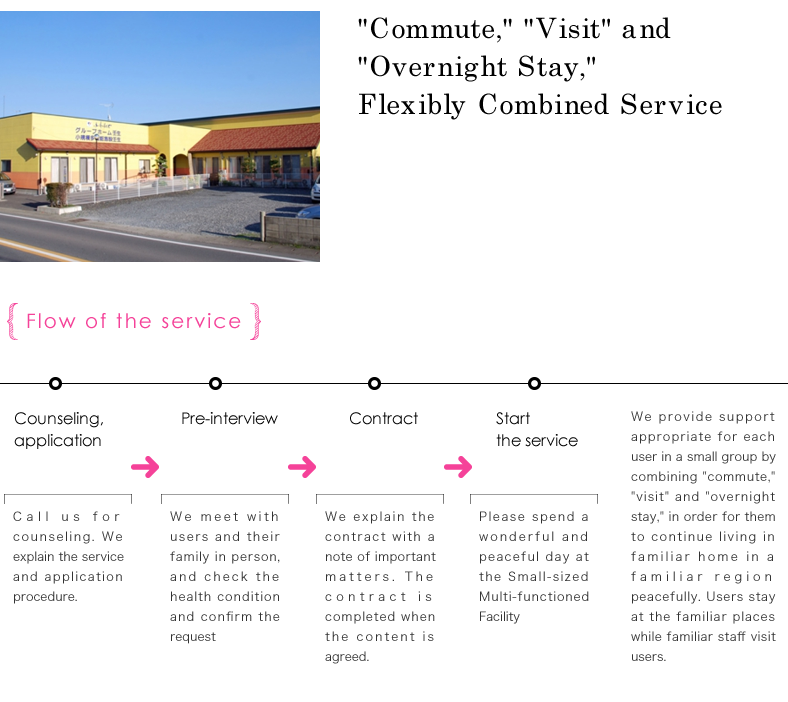 As a small-sized multi-functioned home care, we aim to support the elderly for them to continue living home by providing the service flexibly combining "commute," "visit" and "overnight stay."
Short Stay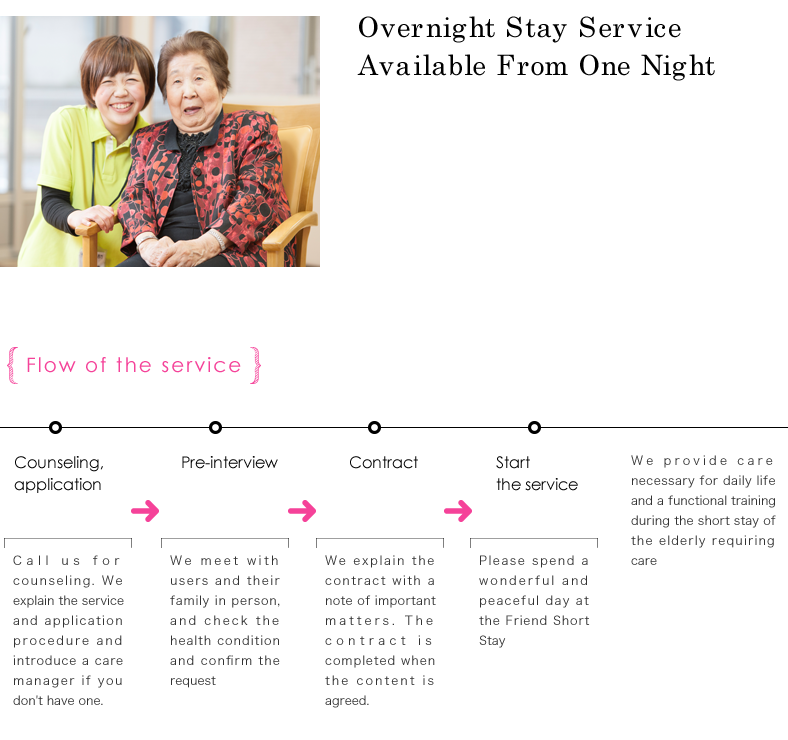 The overnight stay service is available from one night stay for the time when family members living together need to be away from home for reasons. Users can interact with others at the event and recreation. We support users to live peacefully in a homely atmosphere and continue better at-home life by reducing the burden of the family.

We rent welfare products necessary for nursing care, such as an electric bed and a wheelchair as a home care covered by nursing care insurance. This service is to select, set and adjust the appropriate welfare products according to the user's request, situation and environment, so that the user live as independent as possible with their own ability even when the user is disabled.
We support the functional training for the users to live their daily life conveniently and comfortably, and prepare welfare products and nursing care goods designed to reduce the burden of the family
Welfare products available for rental
1. Wheelchairs
2. Wheelchair accessories
3. Special bed
4. Special bed accessories
5. Bedsore prevention products
6. Body position change gear
7. Handrail
8. Slope
9. Walking frames
10. Walking sticks
11. Loitering sensor for the dementia elderly
12. Mobile lifts (except for hanging seats)
13. Automatic excretion disposal apparatus
※Users who are certified for nursing care insurance can rent the product at 10% charge of the original rental fee
※ Rentable products vary by the nursing care level
Specially Designated Welfare Products available for Sales
1. Western-sytle toilet seat
2. Replacable parts of automatic excretion disposal apparatus
3. Bathing assistance accessories
4. Simple bathtub
5. Hanging seat for mobile lift
※Welfare products can be purchased with10% charge of the original price, regardless of the nursing care level. Allowance up to 100,000JPY is granted annually. (However, application is required by the local government. The payment method of the allowance vary by the local government.)
Sales of Nursing Care Products
Oral care products, sterilization and wash products, nursing care shoes, walking sticks, bathing assistance accessories (handles), paper diapers, consumable items, urinary tracts, portable toilets, sheets, beds, furniture, clothes and others